Observer column for MON 29 JUN 2015 by Jean Lowrie-Chin
Lisa Lewis, former Chair, Digicel Foundation, embraced the Ministry of Education Enrichment Programme
"Son-Son" was worried.

Where was his teacher, Mrs. Nicholas?

The third-grader had been attending the cool, colourful enrichment centre at Horizon Park Primary in St. Catherine for over a year, and had gone from being a non-reader to a boy who loved words. Mrs Nicholas, the centre manager was always there, celebrating every new learning milestone with him, but today she was not at school.

He stood at the door, peeked through the keyhole and fretted.
Towards the end of the day, Son-Son walked dejectedly towards the school gate, only to see his long-lost teacher driving in. Mrs Nicholas, who was relating the story to our gathering at the Horizon Park prize-giving last Friday, explained that she gave the student that name because she had become so involved in his progress that she felt like his mother.

She had attended a training seminar that day, she explained to her relieved student – she had not deserted him.
The teacher gave the child a lift and when she reached home, she saw a lovely East Indian mango in the place where Son-Son had been seated. The next day he checked that she had got his present, saying he had wanted to give her something for a long time, so much did he appreciate her care.
Presentation of a token of appreciation by Horizon Park Primary top student in the Digicel Foundation/USAID Enrichment Programme, Kenvanje Jones
to Digicel Foundation Chair Jean Lowrie-Chin
. Joining from left to right are: Michael Uylett, Chairman of the school board; Evadne Cowell, Reading Evaluation Specialist, Digicel Foundation and Lloyd Bennett, Principal, Horizon Park Primary. Occasion was the awards ceremony for students who have excelled in the Enrichment Programme which was held at the school on Friday, June 26.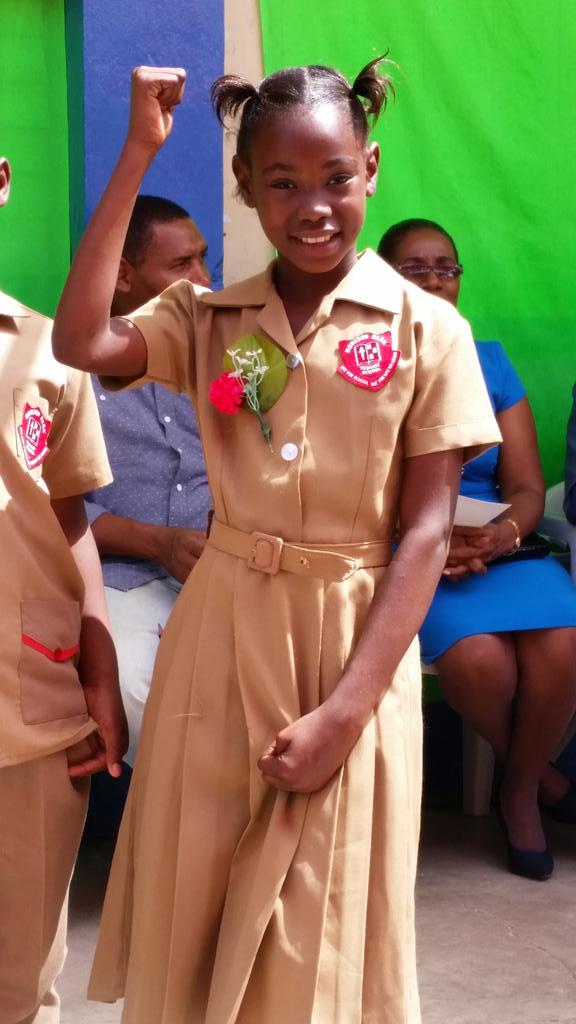 'I feel like a star!'
No wonder Principal Lloyd Bennett says he tends to cry when he sees the achievements of the enrichment centre. His students are so alert and happy. Horizon Park has one of 97 such centres, a Ministry of Education programme started by Dr Michelle Meredith in 2009 and enthusiastically embraced by then Chairman of the Digicel Foundation Lisa Lewis. The USAID became a generous partner and the three organisations have joined together to implement the islandwide programme which has improved the reading and math skills of 37,000 primary school students over the past four years.
The centres use technology to make learning fun – big screen videos, interactive whiteboards, and computer games, with colourful furniture to match, make them an oasis for the children.

Now they are skipping grade levels, and heads are held higher.
Little Toni-Anne said, "I felt ashamed when I couldn't read.

Now, I feel like a star!"

Kudos to the enthusiastic teachers islandwide who are sparking this pride in their pupils.
As this programme develops, it is up to us as parents, teachers, community activists, to shore up the confidence of our children.

On social media, we see that busy PSOJ president William Mahfood has been addressing school graduations at Eltham Park and Denbigh.

When we ask how he manages such engagements in his busy schedule, he says he makes the time "because I want to encourage the children, I want them to have hope."
How beautiful it was to hear New Horizon's seven-year-old Ashley Gouldbourne read from Jeremiah Chapter 29: "For I know the plans I have for you," declares the Lord, "plans to prosper you, plans to give you hope and a future."
Such are the words that will plant the confidence our children need to succeed.

Let us remember and make the time to affirm our precious little ones.