Observer column - excerpt published 2 May 2016 by Jean Lowrie-Chin
This column has been noting for a few years well, that Jamaica's double-blight of low productivity and corruption has its genesis in a conspiracy. I have dubbed it "the conspiracy of mediocrity", and when I have discussed this theory with several solid folks, a lightbulb goes off as they realise that they have been victims of said conspiracy.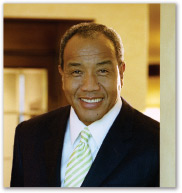 Hon Michael Lee-Chin O.J.
If you have been shunned after you have made concrete suggestions to improve productivity at your workplace, if you have been sidelined after you propose new systems to ensure accountability and transparency, then you have been a victim of that conspiracy. Mediocre managers protect their corner by closing out anyone who may expose them.
What gives me hope that there could be an end in sight for this conspiracy, is the announcement last week of the appointment of Jamaican-born billionaire Michael Lee Chin, as Chairman of the newly formed Economic Growth Council. Lee Chin has targeted five percent growth in four years, and in order to achieve this, he will be taking a very close look at all the factors that could affect this outcome, chief among them being productivity and transparency.
Business leaders do not make idle claims – they assess and then they project. Clearly, Lee Chin has seen the excellence of Jamaica's prospects, and knows that with keen planning and expert implementation, Jamaica's economy can take off. Remember, he is the same man who decided to purchase the National Commercial Bank, after it languished on the Government auction block for two years. Not only did he save jobs, but he expanded the NCB Group to create even more.
Jamaica's excellence is a veritable litany of music and other art forms, sports, hospitality, coffee, rum, ginger, and countless 'firsts'. A few years ago the Ford Motor Company celebrated its centenary in Jamaica – we were their first international location. Black River had electricity before New York City, and the Manchester Golf Club is the oldest in the Americas. In a beautiful letter posted on social media, former Canadian High Commissioner Robert Ready reminded us that Bank of Nova Scotia expanded to Jamaica before it had a branch in Toronto!
The fastest man and woman in the world Usain Bolt and Shelly-Ann Fraser-Pryce are homegrown. Food for the Poor, which was started in Kingston, Jamaica by Ferdie Mahfood is now the largest international charity in the USA. David Hall's VIP Attractions Ltd. now boasts the finest airport lounges in the world, with Club Mobay being expanded twice since its launch.
Clearly, if Jamaica can have such achievements, we can meet Michael Lee-Chin's high expectations. Like the coaches of Usain and Shelly-Ann, Lee-Chin will want optimum efficiency from every stakeholder in Jamaica's economy. We fervently hope that this will herald the beginning of the end of that 'conspiracy of mediocrity' that has allowed too many to squander the hard-earned taxes of humble Jamaicans.