by Jean Lowrie-Chin
Observer column for Mon 19 Jan 2015
Last week started in Negril, then it was back to Kingston preparing for various events including the Food for the Poor 5K launch. On Thursday it was north to St Mary for the opening of the Oracabessa Foundation's Two Wheels-One Love BMX Track at the scenic Eden Park, and on Friday the RJR Sportswoman and Sportsman of the Year Awards. At press time, I am looking forward to the grand finale of Digicel's 'Ultimate Mission' campaign – I voted for Keisha, but then Sacha wooed us on Twitter and won our hearts. Such is the power of social media!
It was a hurried overnight to Negril as we wanted our niece to get even a few hours of our best beach (yes, it still is) before returning to her wintry home in the US.

Bathed in the benediction of this blessed land, she delighted in the school of tiny fishes nibbling at her toes, the softness of the sand, the warmth of the sea.

We took her to the legendary Cosmo's for dinner, where we enjoyed great fare, including those super-sized fritters, and the good humour of the staff.
At the Montego Bay airport, we could not believe the buzz – hundreds arriving and many of those leaving garbed in souvenir black, red, green and gold as they lined up for check-in. On our way back to Kingston, it was smooth sailing within the various speed limits, and we were able to get to Kingston in three hours, not at all missing the circuitous route over Mount Rosser.
Shaggy, our National Treasure
There is a National Treasure who remains humble despite his huge achievements, and his name is Orville 'Shaggy' Burrell.

We had seen Shaggy on entertainment programmes, attended his Shaggy & Friends concerts and of course enjoyed his genius music which has earned him one Grammy (for Mr Boombastic) and six nominations including this year's. However, we did not understand the depth of his engagement, and that of his lovely wife Rebecca, until they were approached to endorse the Food for the Poor 5K.
Once committed, Rebecca attended every single planning meeting, checking her calendar to ensure that they would be present at the Launch and liaising with the dedicated Sharon Burke who introduced such stars as the wonderful Etana, Agent Sasco, Ding Dong and Nomadzz to lend their support as well. And so last Tuesday we had a star-studded media launch, which included Olympians Yohan Blake and Warren Weir.

All proceeds from the event will go towards building houses for needy Jamaicans.
On Friday at the RJR Sports Awards, an enthralling Shaggy gave us a memorable medley of his hits – including "Strength of a Woman" which will endure as an all-time classic. He was joined on stage by Christopher Martin for a sparkling rendition of his new single "I Need Your Love" which is already making waves on the international music scene.
Next month Shaggy will perform at the big Food for the Poor Florida fundraiser in Boca Raton, free of charge as he did five years ago for the Haiti earthquake relief fund, helping to raise millions which have been used to build over 5,000 houses there.
We understand that Shaggy has been signed by Sony and we wish him every success in this new alliance – no one could deserve it more.
BMX, Love and Forgiveness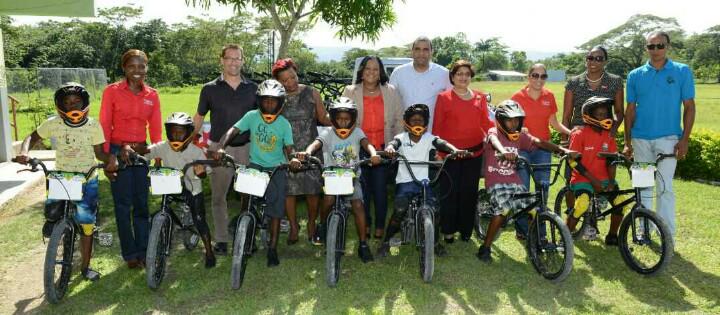 It was some twenty years ago that our shop collaborated with the dynamic Elizabeth Phillips to launch the Oracabessa Foundation, a gift to the St Mary Community from its most famous resident, the legendary Chris Blackwell. And so it was a special joy to return after many years last Thursday for the opening of a BMX cycling track at Eden Park, where the current head Jonathan Gosse has spearheaded the 'Two Wheels, One Love' (TWOL) initiative.
An animated Jonathan explained that TWOL is a programme supported by the Fetzer Institute and Digicel Foundation that, over the course of 36 lessons teaches 250 children how to safely ride a bicycle, compete in BMX as a sport and also the value of love and forgiveness in their daily and sporting lives. He said Maliek Byndloss of Jamaican parentage, the
6
th internationally ranked BMX rider, will be training at Eden Park, and participating in competitions to qualify to represent Jamaica at the 2016 Olympics.
Minister with responsibility for Sports the engaging Natalie Neita-Headley, described the huge crowds she saw watching BMX demonstrations in Germany, so this promises to become yet another great tourist attraction. How clever to pair a boy-friendly sport with a programme for love and forgiveness – this project should spark ideas for similar creative ways to promote harmony in our communities.
Alia receives Jamaica Observer People's Choice Award from Digicel Jamaica CEO Barry O'Brien. Photo by Bryan Cummings
The audience at the RJR National Sportswoman and Sportsman Awards last Friday, glowed with pride as we listened to three amazing Jamaicans, guest speaker Bancroft Gordon, and champions Alia Atkinson and Nicholas 'Axeman' Walters. The nominees were all Jamaican greats, reminding us what a blessed country we are: winners emerged from the non-traditional fields of swimming and boxing, and we welcomed 'mind games' chess (much to the delight of Ian Wilkinson) and bridge.
Nicholas 'Axeman' Walters
Bancroft Gordon's stories of his 'Aunt Kitty's' high expectations drew amusement, but his

serious message was the importance of discipline and time-management which saw him excelling both in his studies and as a versatile sportsman, called up for three national teams after legendary representation of Excelsior High School.

He won a football scholarship to Howard University and then to Harvard Law School.

Now a top executive at the Marriott Group, he urged Jamaican businesses to convert sponsorships to ownerships, so that our sportspersons can make a career out of their skills.
In describing the unfailing support of her parents when she had no sponsors, Alia said that when she was facing challenges, her mother wrote her a letter of encouragement every month, and her father would address her as 'The Fastest' every time he phoned her during her lonely travels. She urged Jamaicans of note to "use your popularity for good … find a cause for Jamaica".
Nicholas 'Axeman' Walters wowed us by speaking from his heart, telling Jamaica's youth that they should use him as an example to follow their dreams.

He said he was a poor boy from Roehampton in Montego Bay who used juice boxes as boxing gloves, but with the support of his mother and father, who is his manager, he made it to the top.

Truly an inspiring evening!