As chairman of the Digicel Jamaica Foundation, I get to meet some of the most inspiring folks.Yesterday I was at the opening of the Rose Town Woodwork and Blockmaking Facility, supported by the Foundation and coordinated by the Rose Town Foundation and their Citizens Cooperative. Below is my address.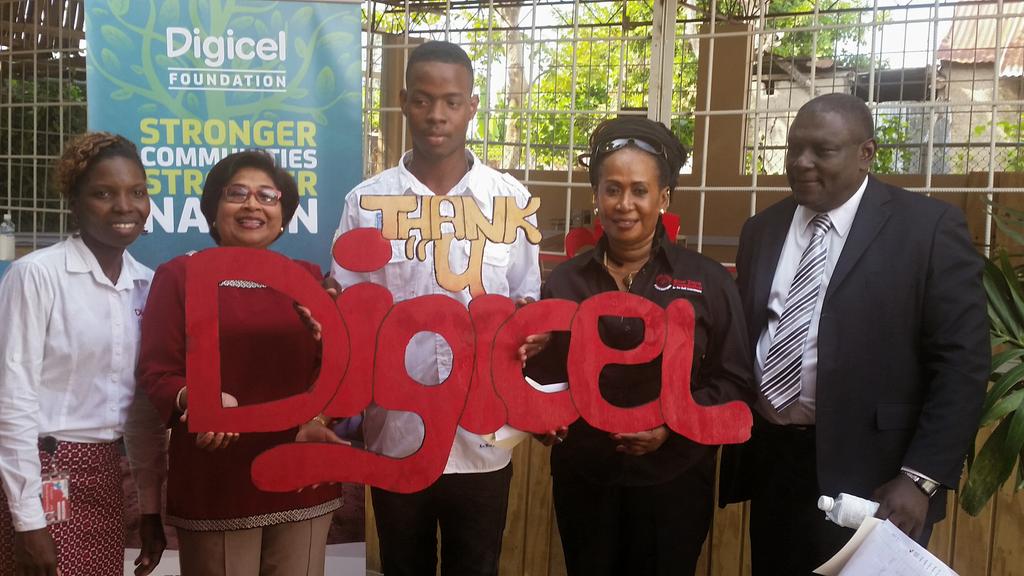 Student Kevin Nesbeth (centre) hands over a beautiful 'Thank You' creation from the Rose Town Foundation. At left is Patrice Smith-Sterling, Digicel Jamaica Foundation Grants & Finance Specialist, yours truly Jean Lowrie-Chin; Angela Stultz, Executive Director of the Rose Town Foundation and Councillor Neville Wright.
Master of Ceremonies
Councillor Neville Wright
Program Manager, Ms Angela Stulz
Business Coordinator Mr Gresford Bennett
Trainees and Community leaders
Ladies and gentlemen, boys and girls
It is a pleasure to be here in the 10th anniversary year of the Digicel Jamaica Foundation and to have partnered with the Rose Town Foundation which has provided so many social and economic opportunities for residents of this area through your social entrepreneurship programme.

The Rose Town Foundation has been doing outstanding work over the past five years and so it was in acknowledgement of your efforts that Digicel Jamaica Foundation decided to partner with you in developing these two micro-enterprises.
The micro enterprises are: block and wood manufacturing and additionally, we are working with the Rose Town Foundation to strengthen the capacity of residents already in established in micro and small enterprises otherwise called MSMEs. This is no ordinary project because the 300 residents who will be involved in the manufacturing and various types of training, come from different areas of the surrounding community with quite likely, different political leanings.
However, they are united in one goal and that is to become skilled workers so that they can be financially independent. With the various opportunities available in the construction industry and the demand for block making and cabinetry will make this a sustainable effort.
The Digicel Jamaica Foundation has invested over J$4 million and we know that this investment will reap great benefits for the community for many years.
Digicel Jamaica Foundation and their patron, the Chairman of Digicel, Mr. Denis O'Brien, are keen on partnering with ambitious Jamaicans like yourselves because it is from your strong foundation that this community of Rose Town and other communities like you will be able to thrive and provide a safe and peaceful living environment for Jamaica's worthy citizens.
It was our National Hero, Marcus Garvey, who said "There is a world of opportunities awaiting us, and it is for us through unity of will and of purpose, to say we shall and we will play our part upon the great human stage of activity."
To you who will be entering the various training programmes, I will also share this from the great Marcus Garvey. He said "Never stop learning. The world's greatest men and women educated themselves outside of the university…. you have the opportunity of doing the same thing…..be learned in all that is worthwhile knowing".
And to quote the great musician, Duke Ellington as you go forward with your training, he says "There are two rules for life –
Rule #2 is never forget rule #1
So I urge you to stay focused in order to become the responsible and dignified citizens of this country that you were meant to be. We at Digicel Jamaica Foundation are honoured to partner with the Rose Town Foundation to help you achieve your vision of a bright and self-reliant future.

Let Jamaica know that Rose Town is determined to make itself a proud and respected community because you the residents have made the big step of taking charge of your future.
May enjoy great success in your future endeavours.
Thank you and may God bless you.