Observer column for MON 21 JAN 2013

|
by Jean Lowrie-Chin
Michael Holding - photo from Wikipedia
Michael Holding, Jamaica's legendary fast-bowler and now a sought-after cricket commentator, took us for a refreshing swim in Jamaica's gene-pool at the recent RJR National Sportswoman and Sportsman Awards.
He recounted the exploits of our athletes, beginning with the iconic George Headley whose record double-century at the Lord's Cricket Ground stood for 51 years from 1939 to 1990. He reminded us that our first Olympic Gold was reaped in 1948 by Arthur Wint and that Usain Bolt and Shelly-Ann Fraser-Pryce were the latest links in our chain of victories.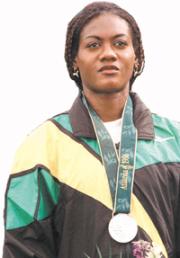 Merlene Ottey
He vividly projected in our mind's eye, Don Quarrie's Gold in the Montreal Olympics, Courtney Walsh's long-standing record for the most Test wickets, the Reggae Boyz exciting entry into France's World Cup arena, the reign of John Barnes as one of England's finest League players, crowned by his captaincy of Liverpool, and Mike McCallum's WBA Junior Middleweight Title.
As we glowed in these triumphs, Michael Holding told us that our Merlene Ottey still holds the record of having 9 Olympic medals, the most reaped by any woman in the history in the Olympics.
He hailed Deon Hemmings for being the first Jamaican woman to bring home the Gold from the Atlanta Olympics in 1996.
He said we should not forget that David Weller won us our first non-track-and-field medal in cycling in the 1980 Moscow Olympics.
Patrick Ewing
He said the replication of Bob Marley's image worldwide is only matched by that of Che Guevara and Usain Bolt's 'To the world' gesture is practised by celebrities (including Prince Harry) in every corner of the earth.
He went further afield, reminding us that celebrated basketball player Patrick Ewing, retired from the New York Knicks in 2003 and football headliner Patrick Chung of the New England Patriots were both born in Jamaica.
Ndamukong Suh, a recent sensation with the Detroit Lions is also of Jamaican parentage – his mother is Bernadette Lennon from Spanish Town, St. Catherine.

General Colin Powell is of Jamaican parentage and Dr Susan Rice, US Ambassador to the United Nations has Jamaican grandparents.
Then the light-hearted Mike Holding of my youth became very serious.

He was concerned about the violence in our beloved Jamaica, the bad press and asked us to devote ourselves to creating safe havens where this marvelous energy can be channeled.
Shelly-Ann Fraser-Pryce and Usain Bolt
"All our greats had abundant talent," he said, "but it didn't end there."

He said Headley trained by swimming longer and longer distances in the Kingston Harbour.

And here we remember the brave Sarah Newland, winning the Kingston Harbour swim in spite of her physical disability.

He recalled a documentary on Bolt, showing him being sick after a grueling training session: "This kind of hard work shows us that fame comes from not just eating yellow yam."
There is one other significant factor that revealed itself when Usain Bolt and Shelly-Ann Fraser-Pryce stood before the microphone, holding their awards: faith in God.

Said Shelly-Ann, "I give thanks to the Almighty" and Usain, "I thank God."

This is the faith of our fathers and mothers that follows us in their whispered prayers wherever we go.
The safe havens called for by Michael Holding are being created out of that faith – sports and community clubs, homework centres and youth groups in our multitude of churches. Faith in God and in Jamaica inspired Governor General Sir Patrick Allen and Lady Allen to launch the 'I Believe' Initiative (IBI) which last year established two 'I Believe' Communities in Westmoreland and St. Catherine, and will focus on career development, youth entrepreneurship and parenting skills this year.
All our religious denominations have created institutions and projects to educate and empower our people.

Let those who are dedicating their resources to the betterment of Jamaica, make their voices heard in condemning the acts of violence and corruption that are undermining their good work.